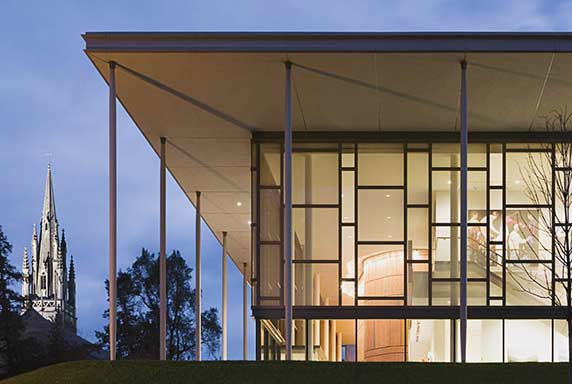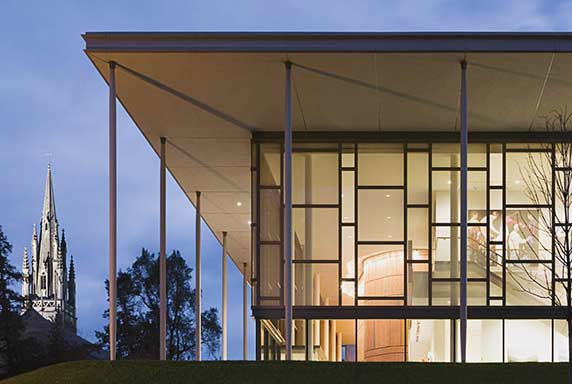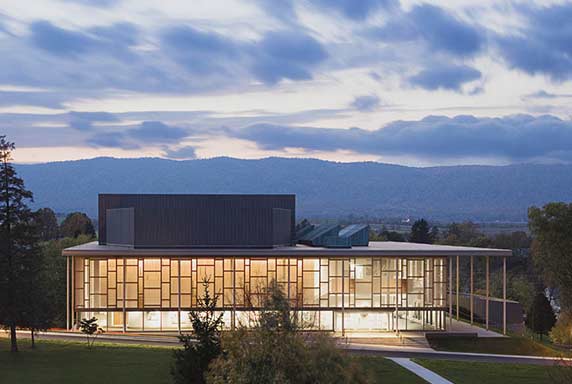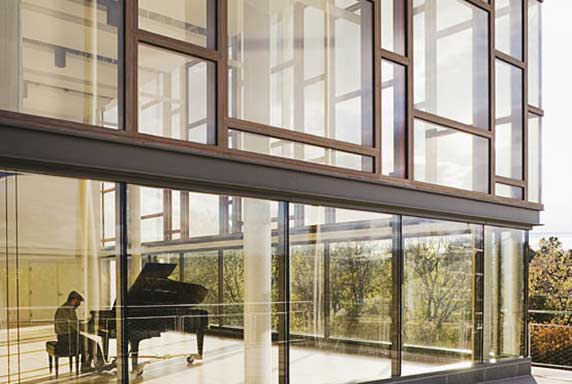 Burgin Center for the Arts, Mercersburg College
Ennead Architects
The window walls and minimal profile design make this amazing building seem to be floating in mid-air. The precision creating of these beautiful windows are the secret to the success of a remarkable visual impression.
Architect: Ennead Architects
Location: Mercersburg, PA
Completed: 2006
Interior: Mahogany (Clear Lacquer)
Exterior: Teak (Bleach Stain)
Blending the Lines with a Custom-Designed Window Wall
There are designs that come along that take every ounce of craftsmanship to bring them to full-blown fruition. The Burgin Center for the Arts features a beautiful 150′ x 125′ x 18-foot-high window wall that wraps around the entire building. This defining feature creates the visual impression of a delicate structure suspended by thin supports surrounding a sculpture-like interior. But the truth is that the sophisticated design is supported by a super-strong web of steel lateral wind bracing at the vertical mullions.
Providing a Living Feeling
The combinations of clear and fritted glass give the building a "living" feeling as the light of the day traces its path across the facade. The precision placements and the crafting of this window wall is the secret to its success. The appearance of grace and fragility is generated by the true nature of the window wall: strength, stability and solid construction.
The result of our collaboration with Ennead Architects of New York City created a building for the teaching of the performing and visual arts that is constructed of all-natural materials, that blends into its environment and that "blurs the distinction" between the indoor and outdoor spaces. At night the Center becomes an irresistible invitation to the arts. The winner of awards and honors in architecture, this project has been featured in The Wall Street Journal and Metropolis Magazine.
For Duratherm the challenge of the elite architecture specifications and of the practical functionality of a performing arts center was exactly what we love to do. The results speak for themselves.