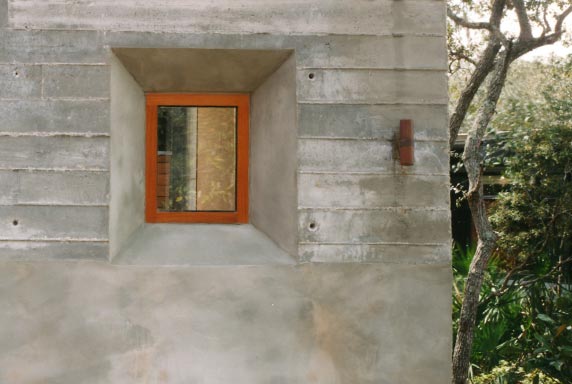 Fixed Frame Windows
A fixed frame hardwood window, known commonly as a picture window, is a non-operable window that creates the appearance of a picture frame on the wall. They are commonly installed as a single window or used in combinations with more functional window types creating a spectacular window wall. These hardwood windows are always custom built to your precise specifications to help bring your vision to life. Create a unique appearance from the interior and exterior with large and flat glass surfaces.
Fixed Frame Windows Data Sheet
Glazing
All glazing is per project specifications. Duratherm can accommodate most configurations and make-ups from 1/8" single glazed to a maximum of 1 3/4" security glass.
Clear glass opening: Unit height minus 4 1/4", unit width minus 3 1/2".
Sizing
The minimums and maximums shown are intended as guidelines. For applications that exceed these ranges, please contact the factory for assistance.
Width
Minimum: 8" or per glazing restrictions
Maximum: per glazing restrictions
Height
Minimum: 8" or per glazing restrictions
Maximum: per glazing restrictions
Frame Depths
Standard: 6¼"
Minimum*: 4"
Maximum: 10"
(*Contact factory for frame depths less than 6¼")
Mechanical
Results

Static Air Infiltration:
ASTM E283 cfm/ft2 @ 1.57 psf

Allowed 0.30
Test Result 0.007

Water Infiltration:
ASTM E547-cyclic ASTM E331-static at 8 psf

Allowed 0.0
Test Result 0.0

Load Deflection:
ASTM E330 10 sec at +60 and -60 psf

Sash Torsion:
AAMA/WDMA/CSA 101 / I.S.2 / A440

Vertical Deflection:
AAMA/WDMA/CSA 101 / I.S.2 / A440

Forced Entry:
ASTM F588
Thermal Transmission
Results

Center of Glass:
ASTM C-236 U-value using Viracon VE1-2M Low E glass and Lawrence Berkeley Laboratories Winow 5.2 analysis program.
NFRC certified.

1": 0.29 with Argon: 0.24

1": 0.33 with Argon: 0.29
Hurricane Impact
Results

Large Missile Impact and Cyclical Air Pressure:

ASTM E1996-05, ASTM E1886-05
Tested at 42 psf
Wind Zone 3, not including Dade County, FL
Missile Level D

Note: Contact factory for size limitations and detail modification required for hurricane certified units.

Passed
Wood Species & Finishes
Duratherm sources all materials by project — from only providers we know and trust. Many of our woods are from Forest Stewardship Council® (FSC- C108949) certified sources. We obtain others from sustainably harvested plantations. Fourteen domestic and exotic wood species offer a wide range of colors, grains, and textures.
Please contact us for information about finishing options (including paint, Sikkens, clear laquer, stain, bleach stain, oil, etc.) and to discuss the use of a species not in our standard offering. We consider availability, durability, machining, and gluing characteristics to determine the feasibility of your choices.
Exterior Wood Species
African Mahogany
Exterior

Cypress
Exterior

Honduran Mahogany
Exterior

Jarrah
Exterior

Redwood
Exterior

Sapele Mahogany
Exterior

Spanish Cedar
Exterior

Teak
Exterior
Interior Wood Species
African Mahogany
Interior

Ash
Interior

Cherry
Interior

Cypress
Interior

Douglas Fir
Interior

Honduran Mahogany
Interior

Maple
Interior

Red Oak
interior

Sapele Mahogany
Interior

Teak
interior

White Oak
Interior
Fixed Frame Detail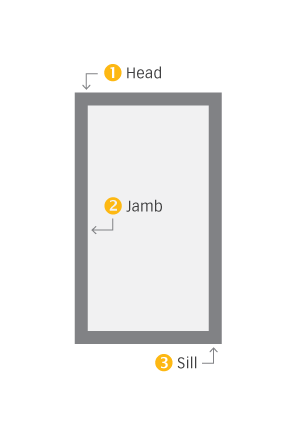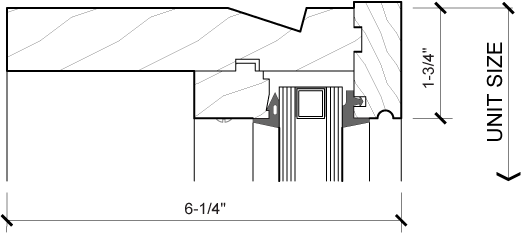 1HEAD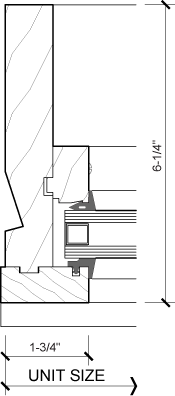 2JAMB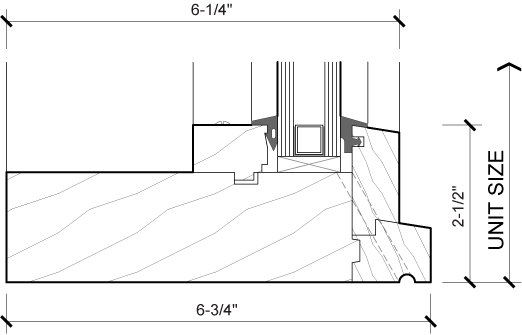 3SILL
Glazing
Dry Glazing
Specially developed extruded silicone gasket sets the glass by compression. Our proprietary system is long-lived, low maintenance and water resistant.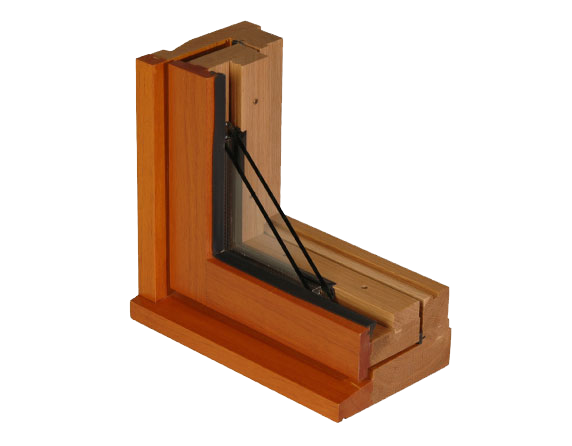 Wet Glazing
Our special silicone wet glazing compound bonds to the glass for long-lived sealing. Plus, our continuous extruded silicone weatherstrip runs around the frame perimeter and the seal is not compromised by seasonal expansion and contractions of the sash and frame