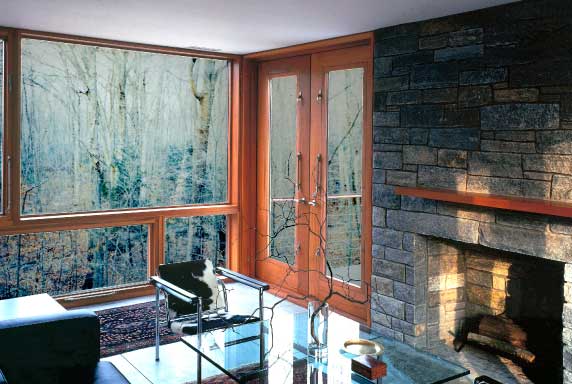 Windoor Hardwood Doors
True to our history of collaborating with architects, we developed our exclusive Windoor in response to a repeating custom design request. The innovative design integrates a casement window or awning window sash with a stile-and-rail door. This creative fusion, designed for clean detailing at entries, permits regulated ventilation without a screen door. Windoor hardwood doors also offer easier ventilation and egress for better handicap accessibility.
Windoor Hardwood Doors Data Sheet
Window Hardware
Operator
Duratherm proprietary pushbar comprised of oxidized bronze alloy components and a solid brass bar, copper plated and oxidized to match bronze. The pushbar operator is mounted on the door stile for casement window operation, the bottom rail for awning operation. It is designed to be manually operated for the entire length and to hold the sash at intermediate points. Available in one piece or hinged at mid-point of length.
Finishes: Oil-rubbed Bronze (US10B), Lacquered Red Bronze (US20A), White Bronze (US26D).
Sash Locks
Oxidized bronze alloy latches ensure positive, uniform locking action.
Finishes: Oil-rubbed Bronze (US10B), Lacquered Red Bronze (US20A), White Bronze (US26D).
Hinges
Casement sash: Full height stainless steel piano hinge.
Awning sash: Truth Maxim® 300 series stainless steel extension hinges.
Insect Screens
1" x 1/4" tubular extruded frames in anodized bronze, mill finish aluminum or custom color painted aluminum. Mesh of 18 x 16 screen cloth held with vinyl spline, available in charcoal finished aluminum, mill finish aluminum, stainless steel or bright brass.
Door Standard Hardware (residential applications only)
Lockset
Heavy duty mortise construction. Half-turn lever controls hook bolts, dead bolt, and latch. Hook bolt assembly fully mortised into rail to provide 3- or 4-point latching at frame and adjacent door/frame. Locking mechanism incorporates a standard US cylinder. Based on G-U Cremona or Tripact door bolt system.
Finishes: Yellow Dichromate or black powder coated steel. Cremona locksets are available in stainless steel.
Escutcheons / Lever Handles
Escutcheons, roses, and lever handles are available in a variety of styles and configurations from various manufacturers.
Finishes: A variety of finishes are available from various manufacturers.
Hinges
Solid brass 4 1/2" x 4 1/2" five-knuckle ball-bearing butt hinges, minimum 1 1/2 pair per leaf, in manufacturer's standard finishes.
Finishes: A variety of finishes are available from various manufacturers.
Door Commercial Hardware
Most commercial hardware can be incorporated into our door panels, including flush bolts, exit devices (rim, mortise, surface vertical rod and concealed vertical rod), door closers, electric strikes, and others.
NOTE: Some hardware installations may require modifications to door leaf or frame detailing, such as concealed closers and meeting rail weather-strip at concealed vertical rod assemblies. Contact factory for assistance. Hardware must be suitable for our standard 2¼" leaf thickness.
Optional Hardware
Screen doors, astragals, ADA-compliant metal thresholds
Glazing
All glazing is per project specifications. Duratherm can accommodate most configurations and make-ups from 1/8" single glazed to a maximum of 1" security glass.
Clear glass opening: Unit height minus 15 5/8", unit width minus 12".
Weather-Stripping
Door Panel
Doubled continuous extruded silicone flap gasket set in rebate around the perimeter of the door leaf. Engaging the multi-latchpoint espagnolettes compresses the weather-strip to ensure a tight seal.
Casement and Awning Sash
Continuous extruded silicone flap gasket set in rebate around the perimeter of the sash. Engaging the sash locks and pusharm compresses the weather-strip to ensure a tight seal.
Sizing
The minimums and maximums shown are intended as guidelines. For applications that exceed these ranges, please contact the factory for assistance.
Width
Minimum: 24"
Maximum: 48"
Height
Minimum: 74"
Maximum: 96"
OPERABLE SASH:
Width
Minimum: 12 1/2"
Maximum: 36"
Height
Minimum: 24"
Maximum: 60"
Maximum sash area: 15 sq ft
ADA Compliance
Clear-opening sizing based on 32" clear width requirement.
Minimum unit width: 35 1/2" (assuming 180° door swing)
NOTE: Standard wood threshold may not meet ADA maximum height requirements. Doors that are not able to open a full 180° may need to increase in width.
Consult factory with specific clearance questions
Frame Depths/Leaf Thickness
Leaf thickness: 2 1/4"
Standard frame depth*: 6 1/4"
Minimum frame depth*: 4 3/4"
Maximum frame depth: 10"
*Contact factory for frame depths less than 6 1/4".
Wood Species & Finishes
Duratherm sources all its materials by project, only from providers we know and trust. Many of our woods come from Forest Stewardship Council® (FSC- C108949) certified sources. We obtain others from sustainably-harvested plantations. Fourteen domestic and exotic wood species offer a wide range of colors, grains, and textures.
Please contact us for information about finishing options (including paint, Sikkens, clear laquer, stain, bleach stain, oil, etc.) and to discuss the use of a species not on our standard menu. We consider availability, durability, machining, and gluing characteristics to determine the feasibility of your choices.
Exterior Wood Species
African Mahogany
Exterior

Cypress
Exterior

Honduran Mahogany
Exterior

Jarrah
Exterior

Redwood
Exterior

Sapele Mahogany
Exterior

Spanish Cedar
Exterior

Teak
Exterior
Interior Wood Species
African Mahogany
Interior

Ash
Interior

Cherry
Interior

Cypress
Interior

Douglas Fir
Interior

Honduran Mahogany
Interior

Maple
Interior

Red Oak
interior

Sapele Mahogany
Interior

Spanish Cedar
Interior

Teak
interior
Windoor Detail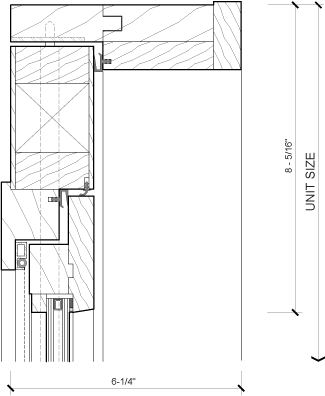 1HEAD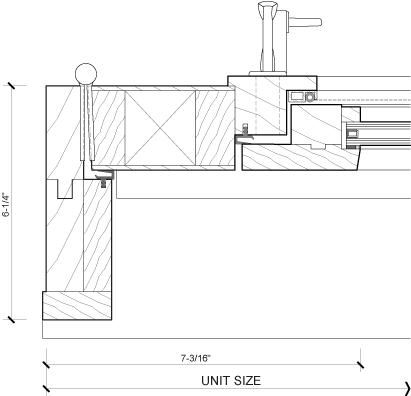 2HINGE JAMB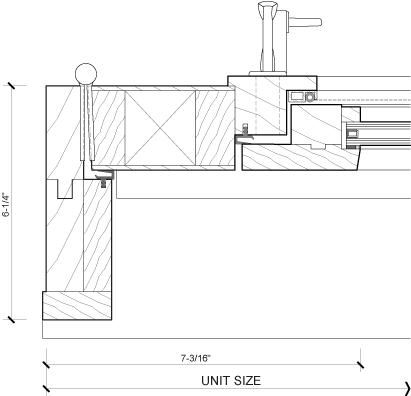 3LATCH JAMB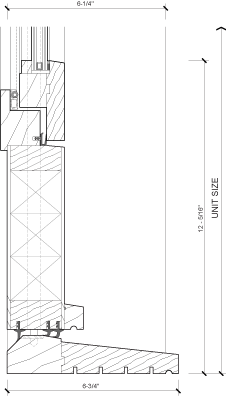 4SILL
Glazing
Dry Glazing
Specially developed extruded silicone gasket sets the glass by compression. Our proprietary system is long-lived, has low maintenance, and stays water resistant.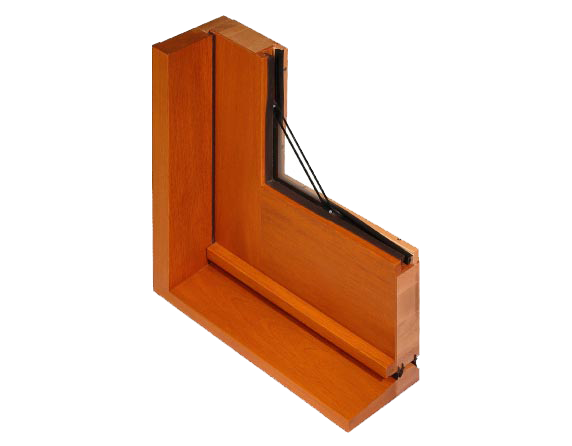 Wet Glazing
Our special silicone wet glazing compound bonds to the glass for long-lived sealing. Plus our continuous extruded silicone weatherstrip runs around the frame perimeter, and the seal is not compromised by seasonal expansion and contractions of the sash and frame.