When completed in 1894, this building was a milestone in high rise architecture. Our 1982 renovation project which replaced all 400 windows should help this National Historic Landmark endure for another 100 years.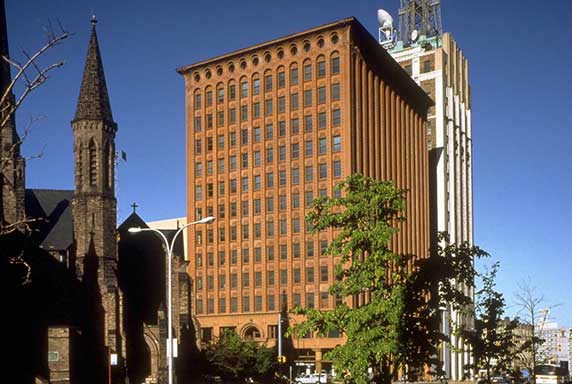 Photo @ Cannon Design
Guaranty Building Renovation
Cannon Design
Buffalo, NY | This National Historic Site designed by Louis Sullivan was originally built in 1901 and is regarded as a milestone in modern skyscraper architecture. Over the years, changes were made in the building, but in 1982 is was restored to its original elegance. We were assigned the job of replacing the 400 double-hung windows and the top floor round fixed windows. 30 years later those windows are all still functioning perfectly. We know because the maintenance team tells us that our windows are still in perfect condition. This is the sister building to the Wainwright Building in St. Louis, for which we provided windows on the modern addition.
Completed: 1982
Interior: Mahogany (Clear Lacquer)
Exterior: Mahogany (Stain)