Lift/Roll
Quality construction and thermal integrity, plus ease of use are all standard characteristics of our rolling doors. Hardwood frames create strength, durability and low maintenance. Custom built to whatever sizes your designs call for, these doors become signatures in homes and buildings. Our custom hardware is engineered to provide almost effortless movement, even in the heaviest constructions, and allows for positive stopping at all intermediate openings.
Photo © Michael Moran
Wood Species & Finishes
Duratherm sources all its materials by project, only from providers we know and trust. Many of our woods come from Forest Stewardship Council® (FSC- C108949) certified sources. We obtain others from sustainably-harvested plantations. Fourteen domestic and exotic wood species offer a wide range of colors, grains, and textures.
Please contact us for information about finishing options (including paint, Sikkens, clear laquer, stain, bleach stain, oil, etc.) and to discuss the use of a species not on our standard menu. We consider availability, durability, machining, and gluing characteristics to determine the feasibility of your choices.
EXTERIOR WOOD SPECIES
INTERIOR WOOD SPECIES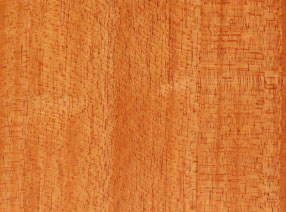 Glazing
We offer dry or wet weeped
glazing compounds.
Specially developed extruded silicon gasket sets the glass by compression. Our proprietary system is long-lived, has low maintenance, and stays waterproof.
Our special silicon wet glazing compound bond to the glass for long-lived sealing. Plus our continuous extruded silicon weatherstrip runs around the frame perimeter, and the seal is not compromised by seasonal expansion and contractions of the sash and frame.
DRY GLAZED DOOR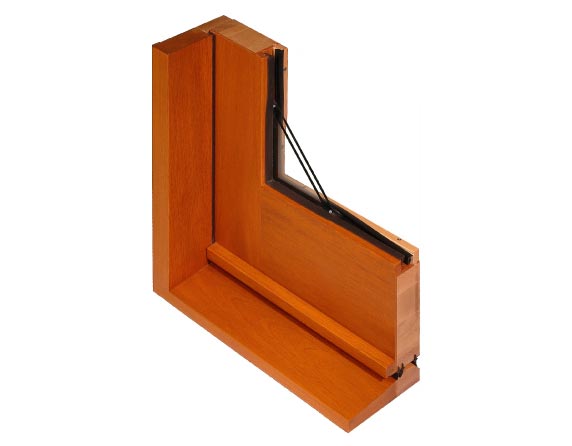 WET GLAZED DOOR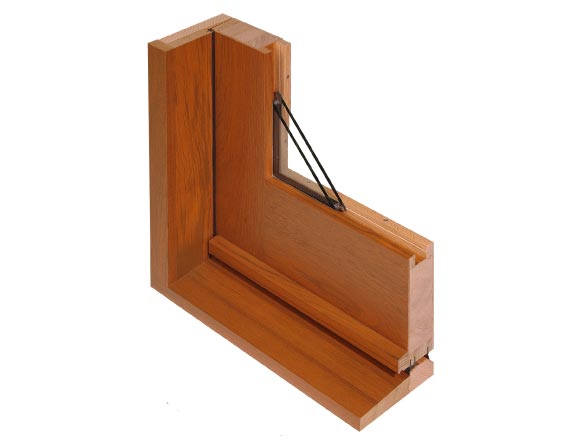 Hardware
We use only the highest quality hardware. Our standard hardware finishes for most window operators are lacquered Red Bronze (US 20) and White Bronze (US 25). Other finishes are available on request.
NON-REMOVABLE HANDLES & FINISHES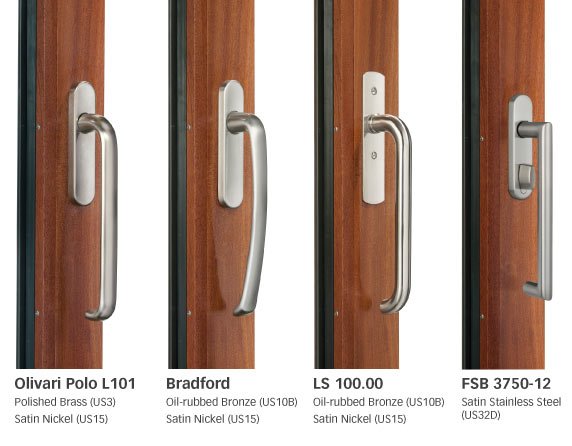 REMOVABLE HANDLES & FINISHES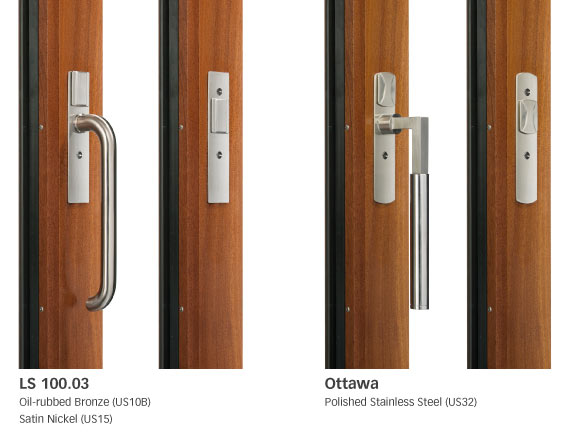 LIFT/ROLL DETAIL DOWNLOAD
KEY (mouse over #s to view details)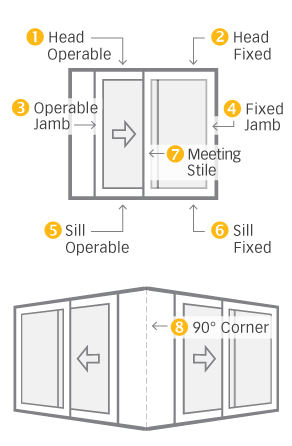 DETAIL: HEAD OPERABLE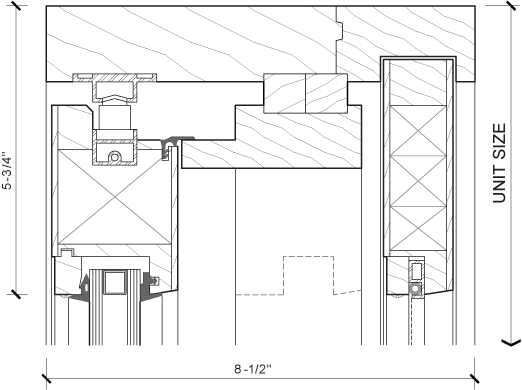 DATA SHEET
Hardware
Operating Assembly
Door panels ride on carriages consisting of two sets of twin rollers mortised into the bottom of each moving panel. The door is raised onto its carriage by rotating the operating lever handle 180°. Lifting gear connected to a tie rod transmits motion to the carriage, lifting door. Based on G-U 933 or FFI Lift/Roll operating hardware.
Finishes: Internal carriage assembly (drive bars, wheel hub, shafts, rivets), lock kit, link rods, and connectors in zinc chromate coated steel or 304 stainless steel.
Lock face and edge stile cover are clear anodized (EV-1) or dark bronze anodized (EV-5) aluminum.
External guides and tracks are clear anodized (EV-1) or dark bronze anodized (EV-5) aluminum).
Escutcheons / Lever Handles
Escutcheons and lever handles are available in a variety of styles and configurations from various manufacturers. Configurations include levers inside and outside; lever inside, finger pull outside; thumb turn lock inside, profile cylinder outside; profile cylinder inside and outside.
Finishes: A variety of finishes are available from various manufacturers.
Optional Hardware
Screen doors, bronze tracks, aluminum thresholds, removable handles.
Standard Configurations
X = Operable panel, O = Fixed panel, P = Pocket
Lift/Roll: OX , OXXO , XX , OXX , XXXX , OXO , XXX , OXXXXO
Pocket: PX , PXXP , PXX , PXXXXP
Glazing
All glazing is per project specifications. Duratherm can accommodate most configurations and make-ups from 1/8" single glazed to a maximum of 1" security glass.
Clear glass opening: Unit height minus 14 1/8". For clear glass width, contact factory.
Weather-Stripping
Doubled, continuous extruded silicone flap gasket set in rebate around the perimeter of the door leaf. Rotating the multi-latchpoint lever handle lowers the door and compresses the weather-strip to ensure a tight seal.
Sizing
The minimums and maximums shown are intended as guidelines. For applications that exceed these ranges, please contact the factory for assistance.
Width
Minimum: 48" for OX configuration.
Maximum: varies per configuration.
Height
Minimum: 74"
Maximum: 120"
ADA Compliance
Clear-opening sizing assumes a two panel OX configuration with equal sized panels and is based on 32" clear width requirement.
Minimum unit width: 70"
NOTE: Standard wood threshold may not meet ADA maximum height requirements.
Consult factory with specific clearance questions
Frame Depths/Leaf Thickness
Standard primary door leaf thickness: 2 1/2"
Standard screen door leaf thickness: 1 3/8"
Standard frame depth *: 8 1/2" (OX configuration with screen door)
Minimum frame depth *: 6 1/4" (OX configuration without screen door)
Maximum frame depth: varies by configuration.
* Contact factory for frame depths less than 6¼".
TEST RESULTS
Mechanical
Results

Static Air Infiltration:
ASTM E283 cfm/ft2 @ 1.57 psf

Allowed 0.30 Test Result 0.05

Water Infiltration:
ASTM E547-cyclic ASTM E331-static at 8 psf

Allowed 0.0 Test Result 0.0

Load Deflection:
ASTM E330 10 sec at +60 and -60 psf

Passed

Sash Torsion:
AAMA/WDMA/CSA 101 / I.S.2 / A440

N/A

Vertical Deflection:
AAMA/WDMA/CSA 101 / I.S.2 / A440

N/A

Forced Entry:
ASTM F588

Passed
Thermal Transmission
Results

Center of Glass:
ASTM C-236 U-value using Viracon VE1-2M Low E glass and Lawrence Berkeley Laboratories Winow 5.2 analysis program.
NFRC certified.

1": 0.29 with Argon: 0.24

Total Unit:

1": 0.33 with Argon: 0.29
Hurricane Impact
Results

Large Missile Impact and Cyclical Air Pressure:

- ASTM E1996-05, ASTM E1886-05

- Tested at 42 psf

- Wind Zone 3, not including Dade County, FL

- Missile Level D

Note: Contact factory for size limitations

and detail modification required for

hurricane certified units.

Passed