This renovation of an international icon required a lot of history and 50 year's of expertise and experience to match the original. The 800 Duratherm windows installed between seven and ten years ago are still performing perfectly. Every one.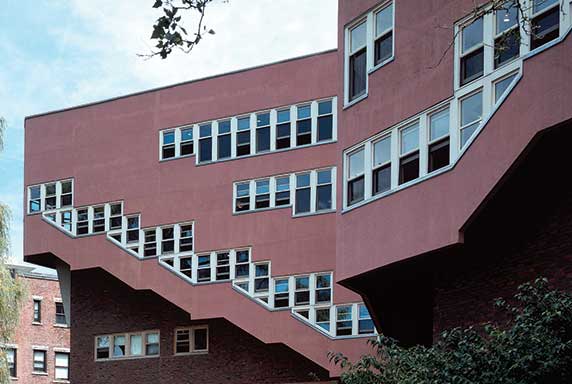 Photo @ Peter Harris
Baker House, MIT
Alvar Aalto / Perry Dean Rogers
Cambridge, MA | When the original architect was a national and international icon, it's clear that the renovation, decades later, has to be perfect in its renewal.
The original design for M.I.T.'s Baker House was created by world-famous architect Alvar Aalto of Helsinki in 1946 to 1949. The goal was to begin fulfilling the school's vision of becoming a residential university with "an atmosphere of order, peace, and beauty." That vision, coupled with the Aalto's monumental style, created a landmark building along Boston's famous Charles River that is a signature for the city.
Perry Dean Rogers of Boston was chosen as architects for the restoration.
Looking across the Charles, the building's silhouette shines in the dawn or dusk. Its hundreds of hardwood, custom-crafted windows bring the building to life as nothing else can. Originally, the pine windows were painted a light gray and required frequent maintenance. Then those windows were all replaced with aluminum in the 1970s. But the cold visual impression of metal could not erase the memory of the original architect's warm use of rich, vibrant wood. The restoration design team was determined to restore what had made the building so striking. "Aalto believed that it was the beautiful aging and patina of the natural materials that give life and depth to a building." This simple, elegant concept was the guiding principle that brought Perry Dean Rogers to Vassalboro, Maine, and to the Duratherm Window Company. Through the competitive bidding process, which included other wood window companies and also some aluminum window companies, the architects realized the Duratherm windows were "infinitely superior." Duratherm's windows replicated the slender profile of the Aalto design and, over time, the MIT team discovered that Duratherm's weathered teak aged to a lovely light gray patina, nearly identical to the original.
The project manager had inspected the 800 other Duratherm teak and mahogany windows installed over 25 years earlier throughout the campus. Out of those 800, only one window had a problem. The problem was that it had been installed incorrectly, otherwise the record of durability would have been perfect. "The rest of the 799 windows," she said, "were as solid as the day they went in." Ocean salt and harsh weather systems wreak havoc on aluminum. Comparing the initial costs to the lifetime savings, there was absolutely no doubt that the Duratherm way was the right way.
The design challenge of varying the trim widths to accommodate the wide range of jamb conditions in the undulating wall facing the Charles was met by Duratherm manufacturing excellence and on-site responsiveness. "From the very beginning of the process, Duratherm understood exactly what was needed."
Today, those decisions have been proven correct, year after year, as the windows have remained as strong and beautiful "as the day they went in."
Completed: 1999
Interior: Maple (Clear Lacquer)
Exterior: Teak (Bleach Stain)