Duratherm's commitment to rigorous testing reflects our 'customer first' philosophy. Our product-testing protocols are designed to meet the most stringent and thorough specifications in the industry. Pictured to the left is a Duratherm window that was tested to withstand an airborne debris assault equal to a fierce hurricane. Our windows are beautiful and, when required, very, very tough and secure.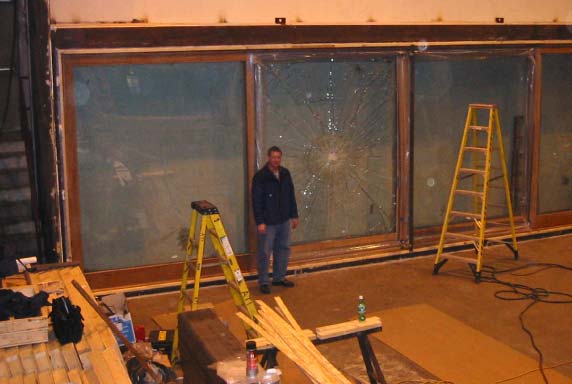 Our Commitment to Rigorous Testing
Duratherm's windows and doors are specified by architects for the most beautiful homes and buildings in the world. This also means that they will be installed in some of the most challenging climates and environments in the world: mountain and high altitude, desert, coastal, and deep forests. These climates and environments require the most detailed, exacting, and challenging specifications to fulfill the architect's vision.
In intense environments, every imaginable challenge comes into play: airborne debris, high-velocity water impact, freezing water impact, long-term exposure to ocean corrosion, extreme temperature fluctuations, extreme dryness, and high security. Test specifications used to combat these environments include: National Fenestration Rating Council (NFRC) rating, Hurricane/Impact locations and air/water to an AW testing grade, among others. Actual test results and technical details are available.
Duratherm's commitment to rigorous testing and to meeting the highest standards is second to none.