He wrote the Constitution and changed the world. Our work on the visitor center to his world famous home, assisted the architect in beautifully preserving our nation's history.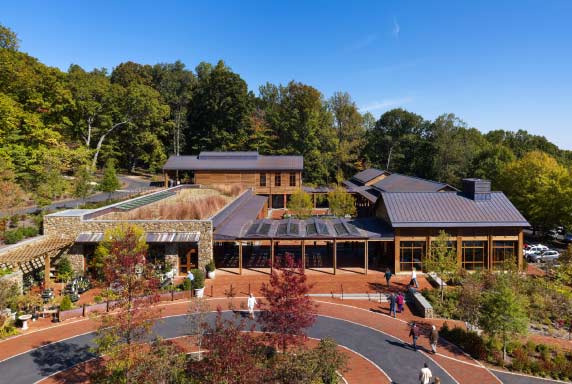 Photo @ Alan Karchmer
Monticello Visitor Center and Smith History Center
Ayers Saint Gross
Charlottesville, VA | Being in the right place at the right time can mean everything. We were in the offices of Ayers/Saint/Gross architects for another project when we were asked to stop by the office of Adam Gross for a look at a new project. It turned out to be the new visitor center at Monticello, the famous home of Thomas Jefferson in Charlottesville, Virginia. The Constitution he wrote is a living document that protects our nation and the newly designed visitors center is a living structure protecting Jefferson's beloved home. Our sustainability policies, our commitment to the durability and beauty of custom hardwood windows and doors, and our ability to craft furniture-quality windows, created a signature opportunity for our company. Our success with Ayers/Saint/Gross architects, and the relationship that has developed, continues to grow with new projects preserving our nation's history.
The Monticello Visitors Center has won LEED and architecture awards.
Completed: 2009
LEED: Gold Certified
Interior: FSC® (FSC-C108949) Spanish Cedar (Clear Lacquer)
Exterior: FSC® (FSC-C108949) Spanish Cedar (Sikkens)